UDT Desktop in the Cloud enables your organization for secure remote work with a Windows Virtual Desktop (WVD) solution that enhances productivity of the workforce. UDT Desktop in the Cloud provides an experience accessible from anywhere while maintaining the highest security standards, and significantly reducing IT infrastructure requirements and operations overhead.
Our solution allows organizations to realize the value of adopting virtual desktops into their environment. We assess, plan, and implement the solution and provide managed services offers for support and operation.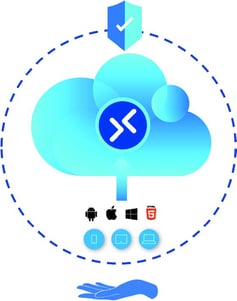 Like to Learn More?
Please fill out the following form to download a brochure and find out how UDT Desktop in the Cloud can help your organization adopt secure remote work!

Mobility
Provide users with secure access to the Organization's applications and data from anywhere

Security
Meet security and compliance regulations and frameworks requirements including NIST, ISO 27001, GDPR, GLBA and more

Scalability
Gain agility and flexibility to quickly address variable and unpredictable environments and specialized workloads needs

Cost
Reduce cost with automated resources scaling for quick adjustments to workforce shifts. Maximize your Microsoft 365 license investment

Performance
Integrate WVD with your cloud productivity adoption for a comprehensive Modern Workplace solution, optimized for Teams Voice!

Management
No complex roles and infrastructure are required for WVD. Benefit from a PaaS solution and UDTEdge managed services offer.